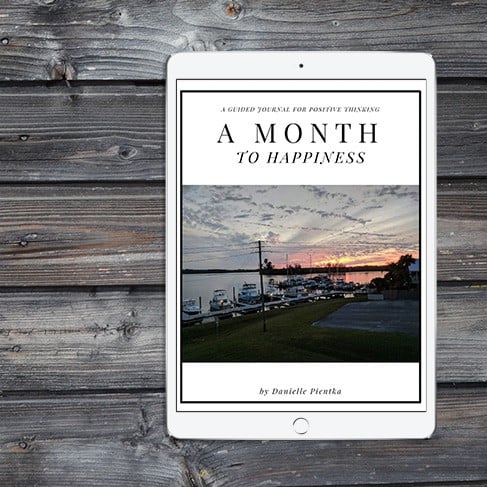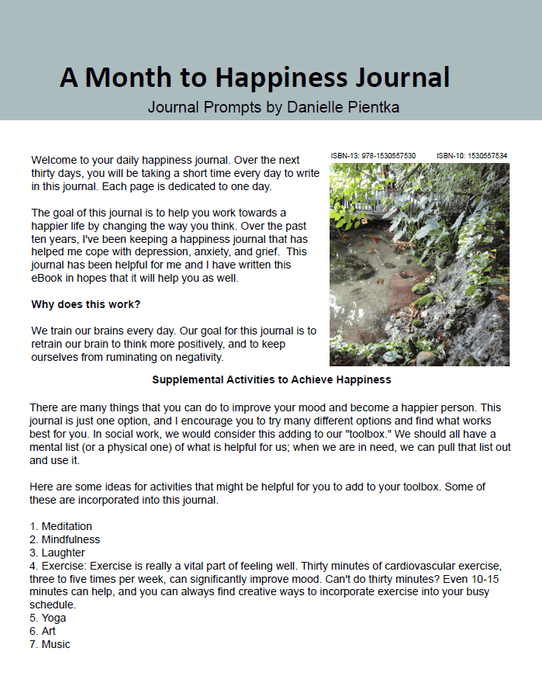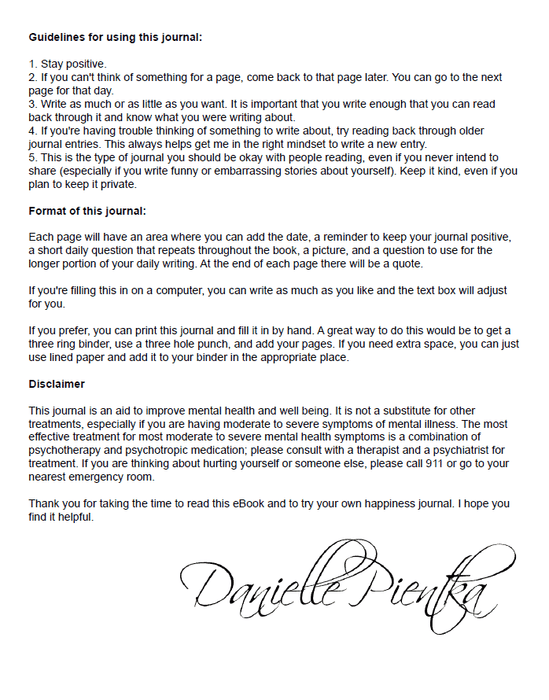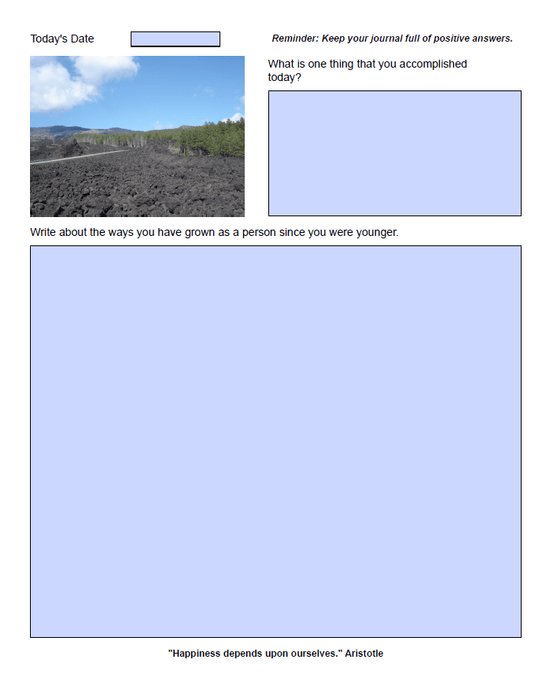 eBook: A Month to Happiness Journal
The Month to Happiness: A Journal is a guided journal designed to help you focus on the positive
aspects of your life and to improve your mood. Each page has two writing prompts and there are a total of thirty pages. These pages are focused on being more thankful, positive, and mindful.
The eJournal can be printed and filled out by hand. This is a digital product, not a physical product. It allows you to make a similar item at home. PLEASE start an account when you purchase. This makes it easier for you to access your designs later. If you don't create an account, make sure you have your pop up blocker turned off so you receive your file.
--
What is a guided journal? 
A guided journal is a journal with writing prompts (questions) that help you focus your writing on a particular topic. This journal was intended to help you focus your journaling on positive aspects of your life. The idea is that when we think about the things that we're thankful for or happy about, we tend to have a happier outlook on life. We tend to feel happier.
When we focus on the negative things, like many people do in traditional journaling, sometimes it helps us "get out the bad feelings," but sometimes it makes us feel stuck in those bad feelings too. 
For me, I've found keeping a journal that focuses on happy things to be helpful in combating feelings of sadness and it helps me refocus on what I'm thankful for. It helps me get unstuck when I'm having a bad day. 
A traditional journal isn't helpful for me. I hope that this journal will help others get the same results. This journal is just a start- I moved on to keeping a general journal of happy moments in my life. When I'm not in a good mood, I push myself to write in it. If I can't think of anything, I read back, then it usually triggers things that I want to add. I find myself spiraling into a better mood.
I hope you have similar results! I wish you luck and happiness in your journey. 
Want the physical book? Buy the print version and have your own journal to follow along with.